Work on Cypress Hill progresses. We're in the process of completing the new Children's Weekend Center which includes a study room, play area, and restaurant.
Play space
We'll soon complete the surface material of our new climbing and sliding mountain, almost 100 square meters in all. We're weaving it out of tire rubber. When it is ready, we can open the new play space.
The new log climbing structure is complete, along with the swings—one with seats and the other with a tire swing that several kids can ride at the same time.

We made netball and basketball hoops out of smooth re-bar, and mounted them both at the edge of our small soccer field.
We've completed the design for a little restaurant to serve the kids and their parents, with construction scheduled to start soon.
Olympiad for students
Last week we held our first Math Olympiad at Cypress Hill. Six schools sent teams of boys and girls—52 students in all.
I took great care in preparing the exam questions, and worked on it for a couple of weeks. I wanted to give students a chance to reveal their curiosity and creativity, in addition to the skills that their exams normally measure.
Boys and girls did equally well, and the event was a great success. We learned a lot and will apply that learning in the next event. The kids found the exam really interesting. They had never seen math questions like these.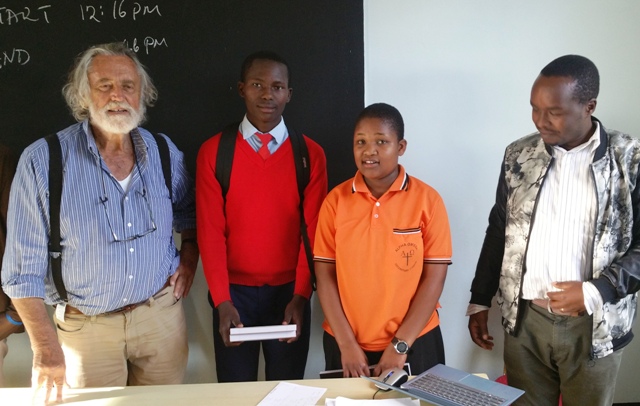 We did the Olympiad for several reasons. We want the campus to become well known for its potential to bring life-enriching opportunities. In addition, the competition illustrates an approach to educational reform that emphasizes ways to work just outside the system. This allows fruitful collaboration between those embedded in the system, like math teachers in the schools, and those who are free to bring innovation, like the ICSEE.
Of course, there were logistical problems. Sangoyan, pictured above, drove off twice in our tiny Suzuki, each time returning with seven students packed inside. It reminded me of the famous circus act where 20 clowns emerge from a VW bug.
We recognized ten students, 6 girls and 4 boys for their best scores. They got very nice backpacks packed with school supplies. The best score was 37 out of 70 and that was really impressive!