The International Collaborative Livestock Project
In September 2017, The ICSEE(T) opened a feedlot for livestock located on ten acres in the Rift Valley, north of Mto wa Mbu in the village of Mungere. The land is located near good water sources. It is a practical operating facility, concretely helping Maasai herders manage cattle safely during droughts and times when grass is limited. It is also for research, experimentation, teaching, and learning.
A challenge to traditional Maasai livestock management practice
 The Maasai's traditional herding practices have made them east Africa's most famous pastoralists. Ancient methods are likely to be well adapted to the environment. So why is it so critical to review livestock management methods now for this rain-based economy?
High losses during drought
Recent years have brought periods of serious drought.   During the 2016 drought, the people could not prevent the widespread death of their cows. In some cases this represented a devastating percentage of the herd. Many Maasai men find it psychologically difficult to sell cows for cash. For them, an increasing herd is a blessing and the right way to store wealth. But herders with many head of cattle experience high losses during drought because grass for grazing becomes scarce.
Adapting livestock management practice
 Smaller herds offer better survival rates during drought. Holding a constant herd size means selling a portion of the herd every season. This change requires thinking of cows as something to harvest, rather than as possessions. The value of these cows can be used to buy feed and relieve poverty in the family and community.
The ICSEE(T) is helping the herders think critically about their livestock management practices. Project Manager Kisioki Moitiko, himself a successful Maasai herder, knows that the individualistic traditional practices, including maintaining large herds, will no longer succeed.
There are many Maasai in southern Kenya who have already cut the size of their herds by as much as two thirds. These herders are creating an economy and a psychology that does well with herds of constant size. Grassland use planning is the other essential element in better cattle management.. Areas of grass can be saved for later grazing only if Maasai men work together and adopt collective grazing practices. 
Starting new feedlot operations

Early in 2017, International Collaborative representatives went to Kenya to meet the Maasai innovators. They presented the new ideas back home to Tanzanian Maasai leaders. Forty-six leaders went to Noongishu Conservancy in Kenya to visit the collectively managed herds and to attend workshops. Operations began September of 2017.
Running the feedlot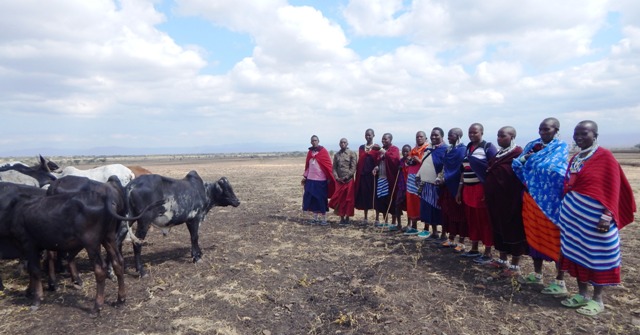 The Maasai Women Pastoralist Organization (MPWO) partners with the Maasai Stoves & Solar Project to improve women's lives. The group has fifty-five cows.  The ICSEE(T) invited them to bring some to the new feedlot. All those with cows at the feedlot pay about $45 for three months of care. Herders cover that cost with the increase in profit when they sell the cows. In addition to feedlot rental, ICSEE (T) buys, fattens, and sells its own small herd to cover the cost of staff salaries.
In response to the 2018-19 drought, many Maasai men have already reserved room at the ICSEE(T) feedlot,  for at least some of their cattle.
A new breed
In Kenya, many Maasai are replacing the cows with breeds that are better adapted to the increasingly difficult conditions that include long harsh dry periods.
The ICSEE(T) created a new  breeding center for cows that are part Sahiwal and part Boran.
These are strong, durable, disease-resistant breeds and combine good meat and milk production, and many additional favorable traits. The herd began with 25 young females and three bulls at the feedlot, and there are now many calves. When they reach the right age, male calves are sold to the Maasai herders. 
Embracing the change
Most significant of all is the commitment of the herders to create and adapt new cattle management methods in the face of changing social and environmental conditions.